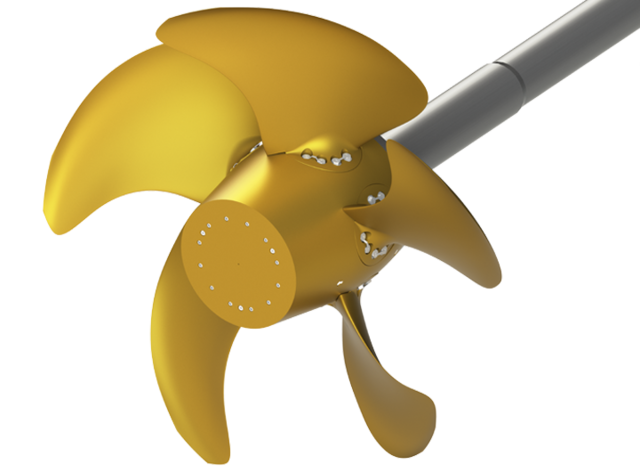 Following an extensive testing period in the in-house test benches, oils that were able to meet the OEM's high performance and quality requirements were technically approved for the use in CP hubs. The EALs are not only able to fully replace the mineral oils used so far, but offer a further advantage with their biodegradability. As a result, they ensure to not harm the environment in the long term. In the meantime and in accordance with the vessel owners, there are several long-term references available for vessels with SCPs, operating with the EALs approved.
Tried and tested
In addition, EALs in stern tube bearings were investigated in close cooperation with a renowned manufacturer. During extensive test runs on a full-size white metal bearing with maximum real loads and misalignments, the biodegradable lubricants for the stern tube bearings also proved themselves.
No oil-to-water interfaces in complete SCHOTTEL scope of supply
SCHOTTEL confirms that the tried and tested EALs can from now on be used for the entire ControllablePropeller unit, including all SCP sizes, without restrictions. As a result, there are no longer any oil-to-water interfaces in the SCHOTTEL SCP scope of supply.
Robust, reliable, powerful
The SCHOTTEL ControllablePropeller combines maximum thrust and manoeuvrability with utmost reliability, low operating costs and user-friendly operation. Particularly suitable for vessels fulfilling different operation profiles, the SCP always provides optimal propulsion power for changing speeds or loads. In addition, the robust design keeps maintenance to a minimum and ensures a long service life.